Shanghai Masters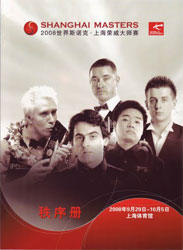 Season 2007-2008 was marked by the appearance of yet another ranking event. In the period from 6 to 12 August in China Shanghai Masters held as part of the Main Tour. Despite its youth, the tournament already gained enough popularity among the professional snooker player.
In one of his interviews, Sir Rodney Walker, the head of World Snooker, said that China is one of the most important countries, which could give new impetus to the promotion of the snooker. Thanks to its player Dean Junhui, which is included in the top ten world ranking, great prospects open to China in the sport.
Because the UK government ban tobacco companies to sponsor Snooker tournaments recently go the whole battle for the preservation of the rating events. So, sponsors snooker remains extremely small. But the recently signed agreement between the World Snooker Association and the Chinese Billiards and Snooker for five years promotes Shanghai Masters and the China Open.
In the first Shanghai Masters tournament was attended by 40 sportsmen: 16 players from the Top-16 and qualifications, as well as 8 of the Chinese snooker players received «wild card». The events took place in Shanghai Grand Stage. In the Wild Card round Chinese players lost with the score 3-5, but on the second stage of anybody of the players from the Wild Card not passed. From Top-16 6 players were not able to get into the 1/8 finals of the tournament.
In spite of the fact that on Shanghai Masters few century of breaks has been made (in comparison with other tournaments), nevertheless the tournament was very quite good. Most likely, it can be connected with the fact that the season has begun early enough and many best players were not at peak of the form. The second explanation of this fact – weather conditions in Shanghai, namely strong humidity.
In the final match Dale won his second ranking title. Prior to that, similar success he was ten years ago - in 1997 at the Grand Prix. Losing after halftime with a score of 2-6, Dale was able to not only win the match, but still made the biggest century in the tournament 143 points.
Winners
Year
Winner
Runner-up
Final score
Season
Ranking
2007
Dominic Dale
Ryan Day
10:6
2007/08
2008
Ricky Walden
Ronnie O'Sullivan
10:8
2008/09
2009
Ronnie O'Sullivan
Liang Wenbo
10:5
2009/10
2010
Ali Carter
Jamie Burnett
10:7
2010/11
2011
Mark Selby
Mark Williams
10:9
2011/12
2012
John Higgins
Judd Trump
10:9
2012/13
2013
Ding Junhui
Xiao Guodong
10:6
2013/14
2014
Stuart Bingham
Mark Allen
10:3
2014/15
2015
Kyren Wilson
Judd Trump
10:9
2015/16